Biography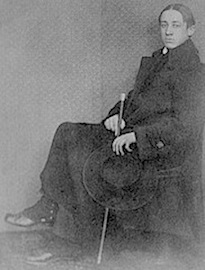 Young Hauser (around 1910)
Carry Hauser was born on February 16, 1895 in Vienna, the son of a family of civil servants. He attended the high school Schottengymnasium followed by the Graphic Training and Research Institute. He studied art at the Royal Academy of Fine Arts in Vienna with Adolf Böhm, Alfred Roller, Anton von Kenner, and Oskar Strnad. As an art student Hauser was drawn to a wide variety of genres including painting, graphic arts, stage design, and writing. All of his interests were reflected in his versatile career as an artist.
In 1914 with the outbreak of World War I Hauser enthusiastically volunteered for service on the Eastern Front. His war experience turned him into a committed pacifist. Many of his works of the time are marked by war trauma. During the regimental exhibition in Troppau of 1918 he presented his first artistic works. There he met the writer and dramatist Franz Theodor Csokor with whom Hauser collaborated several times. They designed the theatrical set for Csokor's expressionist drama The Red Street.
From 1918 – 1922 Carry Hauser lived in Vienna and in Passau. A leading figure in Expressionist artists' groups Free Movement and The Rock Hauser was friends with the German painter and graphic artist Georg Philipp Wörlen with whom he worked on various publications. In 1919 he found a sponsor, the Viennese art critic Arthur Roessler who published his graphic book The Island.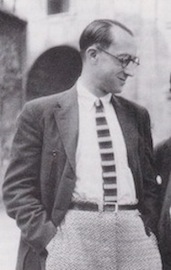 Hauser around 1929
In 1922 Hauser married Jewish-born Gertrud Herzog. From 1925 – 1938 Hauser was a member of the artists' association Hagenbund and from 1927 – 1928 he served as its president. Beginning in 1926 he worked with the painter and graphic artist Otto Rudolf Schatz on the title pages of Arthur Roessler's magazine Österreichs Bau- und Werkkunst (translates to Building and Design in Austria). By this time Hauser's art is characterized by the avant-garde movements of Expressionism, Cubism, Futurism, and New Objectivity. He was increasingly concerned with social issues and it was reflected in his work.
In the 1930s, Carry Hauser became involved in the ruling political organization of Austrofascism Fatherland Front. In 1938 after the Anschluss his political views got his work banned by the National Socialist; Hauser's works couldn't be exhibited and he was forbidden to work. With the outbreak of the Second World War the artist was prevented from accepting a teaching position at an art school in Melbourne in Australia. His Jewish wife fled to the Netherlands and Hauser exiled himself in Switzerland where he concentrated on literary works. He wrote a novel Zwischen gestern und morgen (1945) [Translates to Between Yesterday and Tomorrow] and the fairytale Maler, Tod und Jungfrau (1946). [Translates to Painter, Death, and Virgin]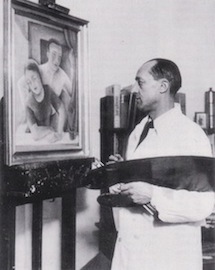 Carry Hauser at work
After the war Hauser and his wife were reunited and returned to Vienna in 1947 where he took part in the reconstruction. In the post-war period once again he became active in professional associations of the Austrian visual artists community. In 1952 he became General Secretary of the Austrian PEN club and later its vice-president. About the same time, he became president of the Neue Hagenbund movement as well as a council member of the organization Activists Against anti-Semitism.
Hauser devoted himself to the wall mosaic Liberation of Austria (1956) in the municipal building in the Simonygasse in Währing and was involved in publishing activities for the building. In 1967 Hauser traveled to Africa for the first time. It was a continent influenced his later work and fascinated him for the rest of his life. In 1985 he was awarded the honorary ring of the City of Vienna. On October 28, 1985 Carry Hauser died in Rekawinkel, Lower Austria.
Carry Hauser is today regarded as a pioneer of Modernity. As a visual artist and writer he left a versatile body of work characterized by his deep and long commitment to human rights. In addition to paintings, drawings and graphics, he designed for the stage, created graphics for advertising posters, wrote essays and novels, and created a monumental wall work in the urban space. His works are now found in numerous museums and collections including the Belvedere, the Albertina, and the Tiroler Landesmuseum in Innsbruck.